SCHEDULE
10:00
Cook-Off Ticket Sales/Boudin & Bacon
Sampling Begin - EAT!

FREE Fun Jumps
FREE Games w/prizes
FREE Face Painting
Meet Pork-Chop (micro pig)
Cakes, Cookies, and Sweets
Cast Your Vote for "People's Choice" (until 3:30)
♪
THE SPECKLERS - Main Stage (10-11:00)
11:15
Boudin Ball & Bacon Eating Contest (center stage) - The only one in the state!!!
11:30-12:15
♪
POISSON ROUGE - Main Stage
12
:30
Boudin & Bacon Eating Contest (main stage)
Sponsored by Richard's Cajun Foods
12:45-2:00
♪
THE BABINEAUX SISTERS (main stage)
1:15
FREE Ice Cream Sandwiches from Auto Title Express (stage left)
2:30 - 3:45
♪
ZYDEFUNK

[featuring Charlie Wooton and Arsene DeLay]
(main stage)
3:30
People's Choice Voting Closes
3:45-4:00
Winners Announced
(Best Boudin in Louisiana, Un-Linked/Specialty Category, Best Bacon Dish and People's Choice)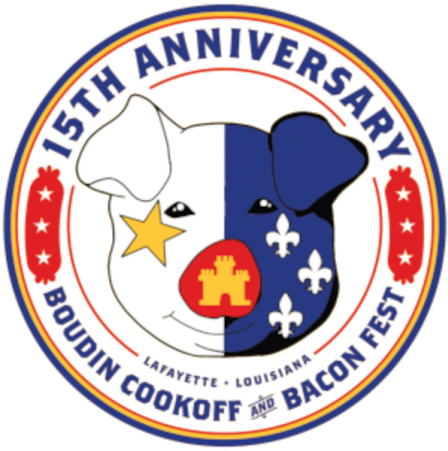 LIVE MUSIC FROM: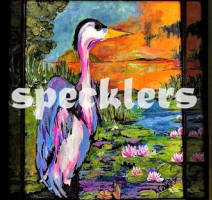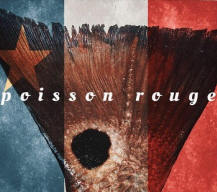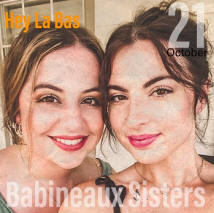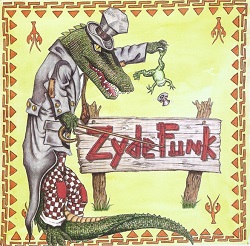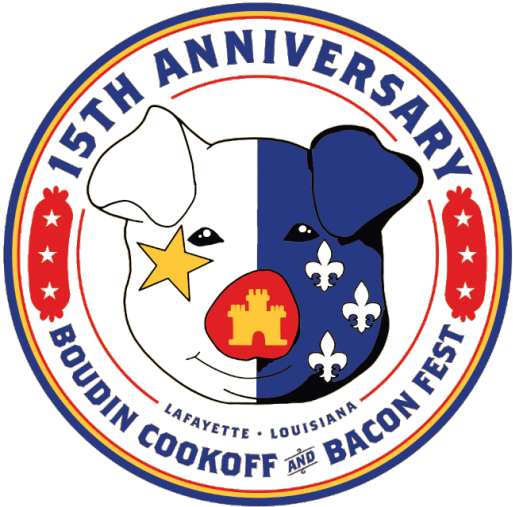 Presented by: Courvelle Toyota https://www.louisianatravel.com/
CULINARY LINE UP
ACADIAN SLICE - Lafayette
THE ACADIAN SUPERETTE - Lafayette
COASTAL PLAINS MEAT COMPANY - Eunice
BEST BURGERS LAFAYETTE - Lafayette
BOSCO'S SPECIALTY MEATS - Broussard & Opelousas
BOURGEOIS MEAT MARKET - Thibodaux
BOURQUE'S SPECIALTIES - Lafayette & Port Barre
BROADDUS BURGERS - Lafayette
CAJUN ELEMENT BOUDIN & SAUSAGE - New Orleans
CHAMPAGNE'S MARCHE - Leonville
CHOP'S SPECIALTY MEATS – Broussard
DEZ MEAUX'S COUNTRY BOUDIN - Opelousas
INSANE SAUSAGES - Vinton
JOHNSON'S BOUCANIERE - Lafayette
KARTCHNER'S - Scott, Lafayette & Krotz Springs
KERNIS LOUVIERE - New Iberia
LAZY CAVEMAN BOUDIN - Broussard
PRIMAL BBQ - Youngsville
PRISON CITY BOUDAIN - Huntsville, Texas
SISSY'S KITCHEN - Houston, TX
T-JOHNNY'S SEAFOOD -Natchitoches
VAUTROT'S MINI MART - Church Point
Plus - Louisiana Lemonade, sno balls, cakes and cookies, Gourmet Popcorn, free Ice cream sandwiches, Soft Drinks, Beer, and More!
FREE TO ENTER/TICKETS FOR FOOD AND DRINK
Sample boudin and bacon dishes from across Louisiana and Texas. Purchase food sampling tickets at the event. Tickets will be 10 for $10. Prices for food items vary, but a sample of boudin is 1 ticket. So, the event is FREE to enter but you will need tickets for food and drink. Most people spend between $20 and $25. You will also be given a People's Choice Ballot for each block of 10 tickets you purchase.

Family Friendly As Always:
Free Fun Jumps, Boudin Ball Eating Contest, Boudin & Bacon Eating Contest - Free Games w/ Prizes, Free Entertainment, Unique Photo Opportunities, Free Ice Cream Sandwiches

lOCATION OF PARC INTERNATIONAL IS HERE: PARC INTERNATIONAL